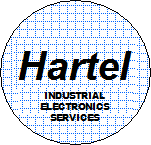 Hartel Electronics Services
9449 Maltby Rd.
Brighton, Michigan 48116


Hartel can supply a good used spare or specify a new alternative that would be as good or better than the original. We can assist in the redesign of circuits to accommodate newer designs to facilitate a repair or improve a process.
Give us a call and we will help you through a difficult situation on older machinery.
WE CAN DESIGN AND BUILD A REPLACEMENT CIRCUIT BOARD TO REPLACE AN OBSOLETE UNIT OR TO ADD FUNCTIONALITY TO A MACHINE CONTROL!