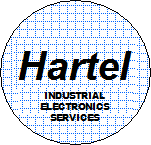 Hartel Electronics Services
9449 Maltby Rd.
Brighton, Michigan 48116


DC servo motors are repaired and tested also. We have the equipment & knowledge to test the attached feedback devices that are critical to proper operation of the motor.
We will replace the bearings & brushes and rewind & balance it if necessary.
Some brands we service are:
Electrocraft
Fanuc
Gettys
Porter Peerless
CSR Contraves
Allen Bradley
Gould
Siemens
Warner Swasey
Inland