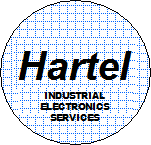 Hartel Electronics Services
9449 Maltby Rd.
Brighton, Michigan 48116




We service hundreds of encoders, linear scales & probes each year. We even invented the encoder analyzer used by our technicians and some of our customers to diagnose encoders on site.
We have the parts and experience to service your encoder quickly and can verify that it will work correctly when you get it back. We warranty our repairs for 1 year.
SOME BRANDS WE SERVICE:
Allen Bradley

Bausch & Lomb

Clifton Precision

Data Technology

Dynapar

Elm Systems

Fanuc

Honeywell

Measurement Systems

Servo Tek

Spaulding

Baldwin

BEI

Datametrics

Dynamics Research

Electrocraft

Encoder Products

Heidenhain

Litton

Renco

Sigma Instruments

Unico