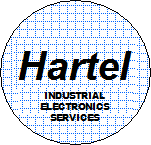 Hartel Electronics Services
9449 Maltby Rd.
Brighton, Michigan 48116

Fanuc Allen Bradley Heidenhain Indramat Mitsubishi, others
CNC Servo Motor Spindle Motor Power & Feedback Coolant & Waterproof
Cable assemblies are another one of our main specialties.
We maintain a stock of standard & special high flex cable and a wide variety of waterproof and coolant proof connectors so that we can build or repair cables fast.
Machine tools, robots, pendants, and other machinery will eventually need a cable repaired or replaced.
We can work with you to specify a cable type that will equal or exceed the performance of an existing design, or engineer an all new assembly that will perform well.
A cost and delivery time savings can be realized when using Hartel instead of the OEM, since they usually outsource the job.
We distribute fine quality European high flex wire that is more cost effective than other brands.
We stock connectors for:

Military/Commercial MS

Fanuc, Heidenhain, Indramat,and most others.